Can you believe it is already Day 7 of my 12 Days of Christmas Countdown? The days have flown by and I have really loved having a new post each day to surprise you with!
"On the seventh day of Christmas, my true love sent to me, seven swans a swimming."
Ok, lets not be ridiculous, no one is going to buy seven swans as a gift for someone this Christmas. Where would you even get a swan? However, with swans, there are a lot of directions that I could have taken with this post. Ways to look like a swan, Black Swan (if you google swan be prepared for a lot of these pics), black swan vs. white swan, etc. Honestly, though I have wanted to do a swan post for a long time, way before Christmas. While perusing the internet for all it's online shopping glory, I came across the most amazing swan dress. With a halter neckline and painted style print, it was everything I never knew I wanted. Later on when I came across the Paul and Joe's swan print dress, my love for swans was cemented.
This in turn inspired me to create a swan print of my own. Ok, I guess I have a confession to make. Not only is The Red Panda Purveyor a blog, it's also an Etsy shop! I create personalized original prints and hopefully soon I will be able to add tote bags and t-shirts to the mix! Thats right folks, if you love whimsical prints of animals in love and other random things that come into my head to create, then give my shop a look through! The Red Panda Purveyor Etsy Shop
Find you love of all things swan by checking out these seven swan stunners!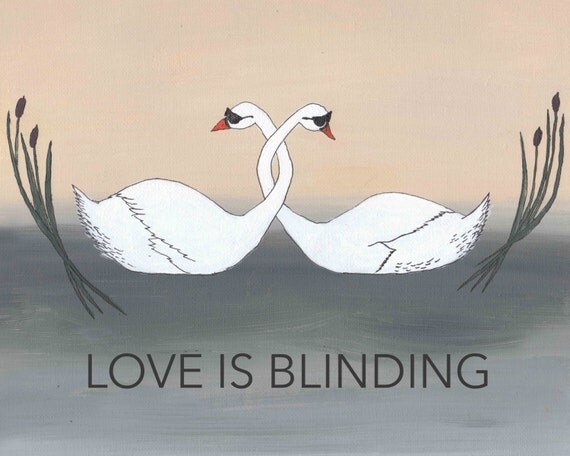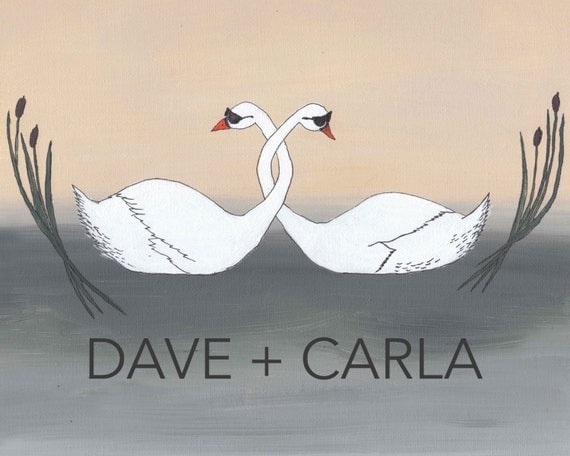 Love is Blinding (Swan Print)
You print comes in two variations. "Love is Blinding" and you can have it personalized with your and your loved ones names/initials.