Can you believe there are only 12 days until Christmas? So exciting. Well in celebration of this holiday season I have decided that a good old fashioned countdown to Christmas is in order. And by old fashioned, I mean taking it way back. Like "Twelve Days of Christmas" old (the lyrics came out in 1780). So happy Day One! The gifts only get bigger and better from here!
"On the first day of Christmas, my true love sent to me, a partridge in a pear tree."
While a bird in a fruit tree might have cut it in days of yore, I think a more modern take away from this famous song would go a bit more like this...
"On the first day of Christmas, my true love sent to me,
Solange Azagury Partridge
jewelry.'
Did you sing it in your head?
But seriously though, SAP jewelry is amazing and if it comes in a pear shaped trinket box even better.

I think the "ball crusher" ring is especially relevant to the 12 Days of Christmas lyrics. Just imagine those are partridge talons, shall we?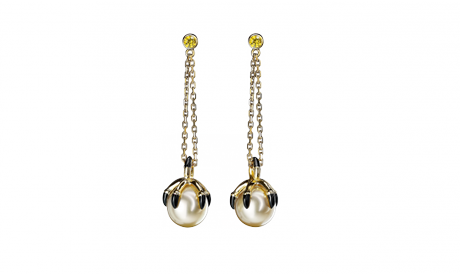 Ball Crusher Earrings
24/7 Necklace
Perfect for New Years Eve, no?
This would certainly bring me Christmas cheer.
The Letter

It's no pear tree but I would accept some jewelry in this.